Hensin Tsao, M.D. Ph.D., graduated Magna Cum Laude and Phi Beta Kappa from Brown University with a degree in Biochemistry and English.  In 1993, he graduated Alpha Omega Alpha from the Columbia University College of Physicians and Surgeons with an MD degree and Columbia University Graduate School of Arts of Sciences with a PhD degree in Biophysics/Biochemistry.  Dr. Tsao completed one year of clinical training in internal medicine and three years of dermatology residency, including a one-year Melanoma Fellowship in the Harvard-affiliated hospitals.  He concluded his training with a postdoctoral fellowship in the Division of Oncology at Massachusetts General Hospital.
In 2001, Dr. Tsao joined the Wellman Center for Photomedicine and Department of Dermatology at MGH, where he established a cancer genetics laboratory to study the molecular basis of melanoma predisposition and progression.  He has been continuously funded for his research by the National Cancer Institute, Dermatology Foundation, American Cancer Society and Department of Defense.  Dr. Tsao also created the Melanoma Genetics Program at MGH and become its first Director.  In addition to his scientific program, in 2005, he became the Director of the MGH Melanoma and Pigmented Lesion Center, which is the oldest multidisciplinary melanoma unit in the country.  Since 2007, Dr. Tsao has been Associate Professor of dermatology at Harvard Medical School.
Dr. Tsao is the author of over 100 scholarly articles, reviews, abstracts, textbook chapters and online media texts.  He has also delivered well over 100 lectures on melanoma, genetics and skin disease throughout the world including many plenary sessions and honorific presentations.  He has received numerous awards including the Alfred Steiner Dean's Award and Titus Munson Coan Prize from Columbia University, the Deborah Shalita Marmour Clinical Career Development Award from the Dermatology Foundation, the Young Investigator Award from the American Academy of Dermatology (AAD), the D.M. Carter Scholar Award from the American Skin Association and the MGH Partners-in-Excellence Award for Leadership and Innovation and the MGH Cancer Center's "100" Award.  In 2008, he was elected as a Fellow to the American Dermatological Association.
Dr. Tsao serves on numerous committees in the AAD, including the Melanoma/Skin Cancer and Core Curriculum Committees, and on several committees in the Society for Investigative Dermatology. He is also the associate editor or an editorial board member of several major clinical and research journals.  Dr. Tsao has served or continues to serve on study sections for the Dermatology Foundation, Cancer UK and NIH. He is on the Medical Advisory Board of the Melanoma Foundation of New England and on the Board of Directors for the Children's Melanoma Prevention Foundation.
Research Interests
Cancer genetics Our research efforts are aimed at understanding the inherited and acquired variants which dictate melanoma risk, progression and chemosensitivity.
Cutaneous melanoma The MGH Melanoma Genetics Program and the MGH Melanoma & Pigmented Lesion Center sit at the interface between basic research and patient care.  We are interested in applying benchside data to bedside decisions.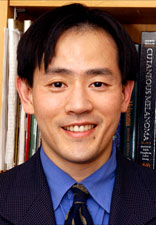 Hensin Tsao
Professor
Harvard Medical School
CONTACT
Edwards Hall, Room 221
Phone 617-726-9569




CURRICULUM VITAE