Mei (May) X. Wu, Ph.D., is a Professor of the Dermatology Department at Massachusetts General Hospital, Harvard Medical School (HMS). She received her Ph.D. from Utah State University and postdoctoral training at the Massachusetts Institute of Technology (MIT) and Dana Faber Cancer Institute, HMS.
Dr. Wu's research interests are focused on the development of next-generation technologies to curb the threats of sepsis and pandemics, including biomimetic nanoparticle-based adjuvants for universal influenza vaccines, lesion-free delivery of vaccines/adjuvants, antimicrobial activity of blue light combined with phytochemicals, and microneedle array-based immunosensors for onsite detection and monitoring sepsis and infections.
In addition, her team is a pioneer in using infrared light to accelerate platelet regeneration, in the development of laser-mediated vaccine adjuvant, and in selective microvasculature leakage for measuring various circulating biomarkers by probe-specific microneedle arrays without drawing any blood. She has authored over 110 peer-reviewed publications, including papers that have been highlighted in Science, Nature Nanobiotechnology, Science Translational Medicine, Nature Communication, Materials Today, Journal of Allergy and Clinical Immunology, Proc. Natl. Acad. Sci. USA, and AP associate.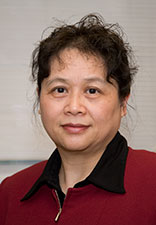 Mei X. Wu
Professor
Harvard Medical School
CONTACT
Edwards Hall, Room 222
Phone 617-726-1298


Kimberli Bell
Administrative Assistant
Phone 617-643-4076