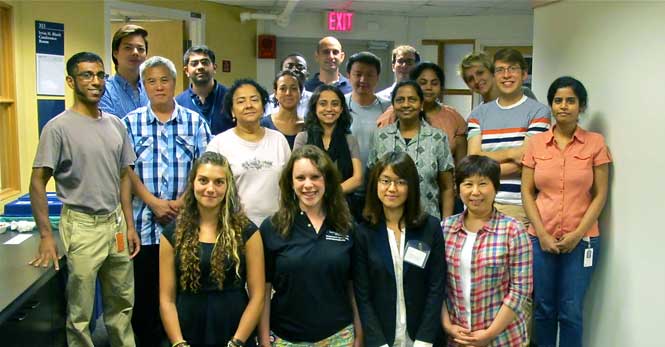 Ahmed Alkhateeb, PhD

Research Fellow




My research at the Hasan lab is focused on identifying mechanism-based therapeutic combinations in conjunction with photodynamic therapy. I am utilizing patient-derived tumor xenograph (PDTX) and 3D organoid models.




Siriam Anbil

Visiting Graduate Student





Yan Baglo, PhD

Research Fellow





Shazia Bano

Graduate Student





Mans Broekgaarden, PhD

Research Fellow





Anne-Laure Bulin, PhD

Research Fellow




I received my PhD in Physics in 2014 from the University of Lyon, France. I studied the relaxation energy processes in nanoscintillators and the ability of such nanoparticles to activate the PDT effect under X-ray irradiation. In Dr. Hasan's lab, I joined projects mainly related to 3D models that are developed to study the combination of PDT and chemotherapy. As part of this, I am working on developing a new live/dead assay for 3D co-culture based on quantum dots.




Jonathan Celli, PhD

Visiting Scientist




University of Massachusetts Boston
Department of Physics
100 Morrissey Blvd.
Boston, MA 02125


Baldeep Gandhi, MS

Program Coordindator





Huang-Chiao (Joe) Huang, PhD

Research Fellow




My research here will focus on exploring "Targeted Photoactivable Nanocells: Image-based Drug Delivery and Dosimetry in GBM" and "Ovarian Cancer PDT: Multi-intracellular targeting and Image-guided dosimetry". The projects will involve development of nanotechnology based systems, and will encompass design, synthesis, characterization, and

in vitro

and

in vivo

studies.




Amjad Khan, PhD

Research Scientist





Jerrin Kuriakose, PhD

Research Fellow





Hui Liu, PhD

Collaborating Research Fellow





Zhiming Mai, PhD

Instructor




I came to Wellman Center in 2005 with an extensive background in the field of cancer biology and had been a research fellow in Dr. Hasan's group. Since then, I have been promoted to Instructor and continue to work on projects such as a targeted photodynamic therapy for prostate cancer.




Srivalleesha Mallidi, PhD

Instructor




My research in Dr. Hasan's lab focuses on guiding photodynamic treatments using various imaging techniques, namely ultrasound, photoacoustic, MRI and fluorescence imaging modalities. I develop algorithms based on these images to guide the delivery of the photosensitizers, monitor the tumor response to therapy and also calculate appropriate therapy dose.




Edward Maytin, MD, PhD

Head, Section of Molecular Dermatology


Department of Biomedical Engineering
Mailstop ND-20
Lerner Research Insititute Cleveland Clinic Foundation
9500 Euclid Ave., Cleveland, OH 44195
Tel: (216) 445-6676


Shubhankar Nath, PhD

Research Fellow





Girgis Obaid, PhD

Research Fellow




My research within Dr. Hasan's group will explore the uses of nanoconstructs for PDT and PDT applications.




Aki Palanisami, PhD

Research Scientist




An experimental physicist by training, my focus is the development of new diagnostic techniques related to PDT with a translational bend. Major themes of my work include the development of

in vivo

endoscopic techniques to monitor the efficacy of targeted PDT therapies and rapid, point-of-care testing for antibiotic-resistant pathogens.




Michael Pigula, BS

Research Technician I





Brian Pogue, PhD

Professor, Thayer School of Engineering
Dean of Graduate Studies, Dartmouth College
Thayer School of Engineering
Dartmouth College
8000 Cummings Hall
Hanover, NH 03755-8000
Tel: (603) 646-3861


Imran Rizvi, PhD

Assistant Professor




I am interested in developing 3D models for human tumors, with an emphasis on ovarian cancer. Growth and characterization of these cultures is a collaborative effort in our group. We draw on concepts from tissue engineering, tumor biology and advanced optical imaging to create in vitro systems that can be used to design and evaluate PDT-based combination regimens for cancer.




Bryan Spring, PhD

Visiting Scientist




My research in the Hasan group focuses on fluorescence microendoscopy for minimall- invasive monitoring of treatment responses in mouse models of ovarian and pancreatic cancer.