Brett E. Bouma, PhD, is an Professor of Dermatology and Health Sciences and Technology at Harvard Medical School and an Physicist in the Wellman Center for Photomedicine at the Massachusetts General Hospital. His doctoral dissertation research, in the physics department of the University of Illinois, Chicago, focused on understanding the interaction of ultrafast laser pulses with optical materials and plasmas.

Following the completion of his graduate work, he entered a post-doctoral fellowship in the EECS department at MIT where he continued his work with ultrafast lasers and began to explore applications in medicine and biology. Since starting a lab at MGH in 1998, he has focused his research on the development and clinical application of novel optical technologies for diagnosis and therapy. Professor Bouma is a Fellow of the Optical Society of America.


Research Interests
My focus in this area is on the development of novel optical instrumentation and methods for diagnosis and therapy in medicine.
Cardiovascular disease remains the leading cause of death in industrialized countries, in part due to the lack of methods for detecting and monitoring the progression of disease in patients. Our work has focused on developing and utilizing novel optical techniques, primarily to study coronary artery disease.
Optical coherence tomography
I have enjoyed participating in the development of OCT technology since the first demonstration of catheter-based, infrared systems. With the recent development of Fourier-domain technology, the field continues to evolve and practical systems have emerged for a spectrum of clinical and biological applications.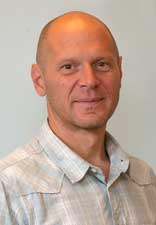 Brett Bouma
Professor
Harvard Medical School
CONTACT
Bartlett Hall, Rm 814
Phone 617-726-9007


Petra Bodo
Program Manager
Phone 617-726-1580